Size Guide
| | |
| --- | --- |
| Sizes | In Inches or In Centimeters |
| XS | Up to 2 5/8 inches (Up to 6.7 centimeters) |
| S | Up to 3 1/16 inches (Up to 7.8 centimeters) |
| M | Up to 3 7/16 inches (Up to 8.8 centimeters) |
| L | Up to 3 13/16 inches (Up to 9.8 centimeters) |
| XL | Up to 4 3/16 inches (Up to 10.8 centimeters) |
Size Guide and Printable Size Chart below:
A ruler is needed to measure the width of your knuckles to find your size.
Place your right or left hand palm down on the ruler with the knuckles placed against zero inches.

Align knuckles (not fingers) across the ruler.
(You could even trace your entire hand over the chart to find your correct size easily.)

The width of your hand will tell you what size you are.
Click on the image below to print out a PDF SIZE CHART to measure your hand easily.

*Please note: You MUST print this PDF SIZE CHART at 100% (ACTUAL SIZE) to get the correct size.

If you would like to double check to see if you printed it at 100%, just check the printout against an actual ruler. The measurements should be exactly the same as your ruler.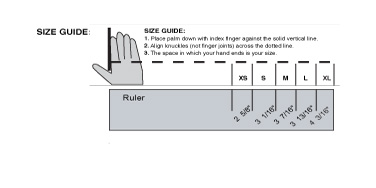 For International Customers, please click on the METRIC SIZE CHART here:
Printable PDF SIZE CHART (SHOWN IN CENTIMETERS)
**Please read the SIZE PRECAUTIONS below before ordering:
**1. If your hand falls directly on the line (in between sizes), we recommend that you order the next larger size. For example, if your hand measurement falls in between the sizes of small and medium, we suggest ordering the medium size. And if your hand falls in between the sizes of medium and large, we suggest ordering the large size. But if you are still unsure and would like for us to double check what your size is, we can certainly help you determine your best size. Just e-mail us! We'll try our very best to help! Thanks! =)
** 2. Please DO NOT place your hand onto your computer screen to measure your hand (even if you set the chart to 100%). The measurement from the screen will not be accurate. Please PRINT the PDF SIZE CHART at 100% to get your correct size. Thanks!
** 3. The XS size is for very small hands (usually for children ages 6 and up). In the past, customers have accidentally ordered the XS size by mistake which resulted in extra time and postage to resend it back and to re-ship it for both parties. So, just as an added precaution, please make sure to print the PDF SIZE CHART at 100%. If you have any questions in regards to your size, please don't hesitate to e-mail us! We'll try our very best to help! Thanks!